EMS TRAINER LICENSE ADVANCED DEGREE
1 Practice exam : in locations
Certificate: EMS Trainer License Advanced degree
International Fitness Pro Education IFPE
Increasing Strength To Improve Power & Speed
1. Possible applications
Low-frequency electrical stimulation (below 1 kHz) is used in many fields. These include medical-therapeutic applications such as prevention of muscular atrophy or quicker convalescence. It is used in other areas such as training aimed at preventing (or reducing) back pain and urinary incontinence. In amateur and professional sport, low-current EMS is also used in the areas of strength and endurance training. It can also be used for whole body or muscle relaxation and massage.
2. Forms of training
In strength training in particular, low-frequency EMS leads to an increase in voluntary contractions, which can be at a specific angle, or dynamic within a certain range of motion (ROM). In practice, those undergoing training tighten their musculature or move it simultaneously with the intensification of the electrically induced stimulation. The stimulation is of local muscles, several muscle groups or whole body EMS training. Another option is combined training where a mechanical stimulus (e.g. weight training) and low-frequency EMS are used simultaneously or successively.
3. Current level of research
Low-frequency EMS is used in the above fields with training taking various forms. The investigation by Fritzsche et al. (2010) showed for the first time the effects of low-frequency whole body EMS training in patients with cardiac insufficiency in secondary prevention efforts. The improvements to objective performance capabilities and optimisation of muscular-physiological and metabolic parameters were significant. They exceeded the results of established aerobic forms of training as part of primary and secondary cardiological rehabilitation of patients with chronic heart insufficiency (CHI).
As people advance in years, progressive inactivity atrophy starts to affect important hormone-producing structures. These include the thyroid gland, adrenal cortex, the pancreas and the gonads. Consistent EMS training promotes hormone production in the glands and testosterone and growth hormones increase greatly. The ageing process can thus be slowed down using regular EMS training with EasyMotionSkin. This mostly occurs due to increased hormonal and enzymatic activity, which slows down cell degeneration processes. The effect on increasing libido is a side-effect of EMS training with EasyMotionSkin that is being documented more and more. Older gentlemen have reported improved circulation in their sexual organs and women experience an upsurge in libido. Both effects can be explained by the significantly increased circulation of the pelvic floor. Sexuality is still a hot issue for those with advancing years! Consulting with the patient on these issues is therefore important.
5.Maintaining the muscular 'corset'
Your whole body changes as you get older. It leads to a progressive decrease in muscle strength and a reduction in the active muscle profile. High levels of pain often (back, limbs) discourage people from participating in regular training which then increasingly reduces the mobility of the whole body. EMS training with EasyMotionSkin is an ideal alternative for this group, helping them keep their muscular 'corset' in top condition and further improve it. Significant strength gains are also evident in elderly exercisers. The targeted simultaneous training of agonists/antagonists does not involve painful pressure on the joints. The stimulation of low-lying muscle areas (e.g. intervertebral musculature) targets pain in the back and eliminates it permanently. Training is for everybody, regardless of age or level of fitness. Accordingly, EMS training with EasyMotionSkin now has a prominent role in age rehabilitation, and preventive medicine.
6.Strengthening bones
Scientific studies have demonstrated the interaction between physical activity and healthy bone structure. Only if the body is placed under sufficient exertion will the necessary calcium and vitamins be made available for bone revitalisation from one's diet. There is also the risk of osteoporosis to contend with which is a reduction in mineralisation in the bone structure. Sufferers of this condition may experience bone fractures from everyday activities. The compressive and tensile forces present in EMS training with EasyMotionSkin increase strength and bone mineralization. And even if osteoporosis has been diagnosed, targeted training using EasyMotionSkin can slow down, or even reverse the degenerative process. Increasing numbers of younger patients are suffering from osteoporosis all of whom could benefit from a EMS training programme as a preventive measure.
7.back pain (lumbar spine) and neck pain (cervical spine)
Whole body EMS training combats back pain – an extremely widespread condition – in a very effective way. The electrical current obviously also effects deep muscles which are difficult to reach using conventional treatments. Specialist whole body EMS training is a time-saving, very effective all-round training regimen which achieves positive, wide-reaching health effects. It achieves both therapeutic and preventative goals.
8.EMS Training with diabetes mellitus
The training of unstable type I diabetics with recurrent shock states in their medical history should be avoided until a stable metabolic condition has been reached.
The situation is quite different for stable type II diabetics (widespread disease). We have more than 4000 training sessions at the North Rhine-Westphalia Heart and Diabetes Centre to look to.
Patients suffering from this condition benefit greatly from EMS training.Glucose utilization in the muscles is increased as well as basic metabolic rate and mental acuity. After 20 minutes training, blood sugar levels drop significantly. This should be measured before and after training ( testing strips – most patients measure their own levels), the trainee should be aware of it and eat an apple or some bread after training. Therapy doesn't get much easier than this.
9.Patients with heart failure
Patients with impaired cardiac functioning are ideal candidates for training using the EasyMotionSkin. For comparison, see the extensive studies from the North Rhine-Westphalia Heart Centre; Fritzsche, van Buuren. To improve metabolism, the methods used in conventional training regimens would put too much strain on people suffering from heart failure, which is why these participants were the ones who benefited the most from EMS training since they could reap the benefits without over-exerting themselves.
10.Patients with infarction
Patients suffering from infarction will benefit from regular EMS training. Studies carried out by the North Rhine-Westphalia Heart Centre have proved its effectiveness. Specifically, this training only enables an effective metabolism through heightened exertion.
11.Patients with pacemakers/defibrillators
Even today, some patients with pacemakers or implanted defibrillators are being deemed as unsuitable for therapy by EMS trainers themselves but they are incorrect. The range of indications for which a device should be implanted such as pacemakers, biventricular devices or AICDs has expanded to a large extent meaning that there are many more patients with cardiac insufficiency who can benefit from this form of training who would otherwise have been ruled out. Current expert opinion is that EMS training is not dangerous for wearers of pacemakers and other devices. This is due to the type and duration of the pulses created by EasyMotionSkin, which are not detected as ventricular fibrillation and thus will not cause a shock. They also do not interfere with the functioning of pacemakers or biventricular devices. This opinion can be supported by the fact that many patients with such devices have recently taken part in EMS training under clinically controlled conditions and upon submission of a written letter of consent. There was not a single case of a device worn by patients malfunctioning. Well-known manufacturers such as Medtronik® and Boston Scientific® are currently working on a declaration to have the use of EMS training on people wearing these devices officially approved. Tip: According to the latest findings, EMS training is harmless for people wearing pacemakers and other such devices. There are currently no official, legally-binding declarations from the manufacturers but they are expected soon. If you are unsure, wait a little before you make a decision.
12.EMS Training with osteoporosis
In a prospective, randomised study, 30 patients with osteoporosis were led through systematic training over 4 months. Group A (n=10) did the 'back school' training programme, Group B (n=10) did normal device training and Group C (n=10) only took part in whole body EMS training. Concomitant medication was not altered during the training. At the end of the experiment, there were improvements in bone density measurement and physical capacity (initial examination – original investigation), but only group C (EMS training) exceeded the threshold of significance.
Source:
Th. Walluseck, Diplomarbeit an der Deutschen Hochschule für Körperkultur und Sport; DHfK, Leipzig, 2009; in Zusammenarbeit mit MedandSports
Dr. Kleinöder, Sports University Cologne Germany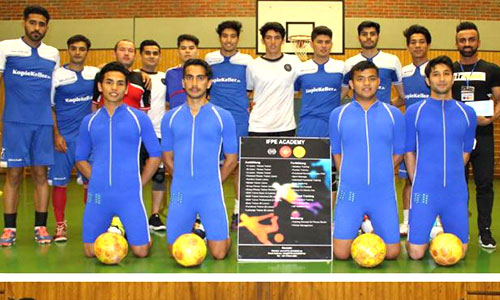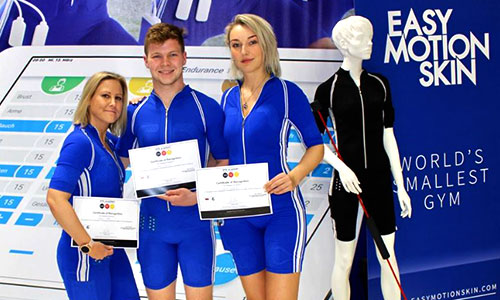 | | COUNTRY | CITY | COURSE TYPE | DATES | COURSE LANGUAGE | OPERATED BY | CONTACT |
| --- | --- | --- | --- | --- | --- | --- | --- |
| | GERMANY | Berlin | EMS License Advanced | 03.06.2021-04.06.2021 | German | IFPE Academy | Book online |
| | CANADA | Toronto | EMS License Advanced | 03.07.2021-04.07.2021 | English | IFPE Academy | Book online |
| | TURKEY | Istanbul | EMS License Advanced | 03.09.2021-04.09.2021 | Turkish | IFPE Academy | Book online |
| | IRAN | Tehran | EMS License Advanced | 03.10.2021-04.10.2021 | Farsi | IFPE Academy | Book online |
| | UAE | Dubai | EMS License Advanced | 03.12.2021-04.12.2021 | English | IFPE Academy | Book online |
| | AUSTRIA | Wien | EMS License Advanced | 03.06.2021-04.06.2021 | German | IFPE Academy | Book online |
| | ENGLAND | London | EMS License Advanced | 03.06.2021-04.06.2021 | English | IFPE Academy | Book online |
| | AUSTRALIA | Sydney | EMS License Advanced | 03.06.2021-04.06.2021 | English | IFPE Academy | Book online |
| | SWEDEN | Stockholm | EMS License Advanced | 03.06.2021-04.06.2021 | English | IFPE Academy | Book online |
| | COUNTRY | AUSTRIA |
| --- | --- | --- |
| » | CITY | Wien |
| » | COURSE TYPE | EMS License Advanced |
| » | DATES | 03.06.2021-04.06.2021 |
| » | COURSE LANGUAGE | German |
| » | OPERATED BY | IFPE Academy |
| » | CONTACT | Book online |
| | COUNTRY | ENGLAND |
| --- | --- | --- |
| » | CITY | London |
| » | COURSE TYPE | EMS License Advanced |
| » | DATES | 03.06.2021-04.06.2021 |
| » | COURSE LANGUAGE | English |
| » | OPERATED BY | IFPE Academy |
| » | CONTACT | Book online |
| | COUNTRY | AUSTRALIA |
| --- | --- | --- |
| » | CITY | Sydney |
| » | COURSE TYPE | EMS License Advanced |
| » | DATES | 03.06.2021-04.06.2021 |
| » | COURSE LANGUAGE | English |
| » | OPERATED BY | IFPE Academy |
| » | CONTACT | Book online |
| | COUNTRY | SWEDEN |
| --- | --- | --- |
| » | CITY | Stockholm |
| » | COURSE TYPE | EMS License Advanced |
| » | DATES | 03.06.2021-04.06.2021 |
| » | COURSE LANGUAGE | German |
| » | OPERATED BY | IFPE Academy |
| » | CONTACT | Book online |
EasyMotionSkin offers the most innovative EMS technology on the market—made in Germany: flexible, no water, no cables. The integration of EasyMotionSkin into fitness environments, training areas, group training sessions or spa and beauty zones is very much in vogue, and offers an attractive additional business opportunity that can be easily included in your service range and/or everyday life. A win-win for gym operators, personal trainers and sports fans alike.
REQUEST A FREE TRIAL PACKAGE

NOW FIND OUT ABOUT YOUR TRAINING OPPORTUNITIES FREE OF CHARGE AND WITHOUT OBLIGATION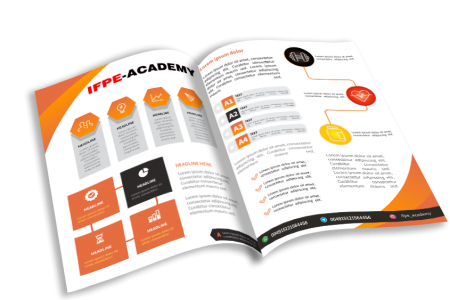 With the trial package you have all the information you need to continue your education with our online training programs.
Information material on all training opportunities
Free trial access to all training courses